If you're thinking about embracing renewable energy technology, understanding how to clean solar panels is important. As of 2022, around 50,000 Irish households have invested in solar panels. In optimal conditions, solar panels can save the average household upwards of €400 every year.
As energy costs continue to soar, the cost-saving benefits of solar panel technology have become even more obvious. Although most solar panel systems are self-cleaning, you'll eventually need to undertake some maintenance to ensure they're working efficiently.
This is even more vital if your panels are mounted on a roof. Unsure of how to clean solar panels? Our cleaning guide outlines everything you need to know.
Why Solar Panel Cleaning is So Important
Domestic and commercial PV systems are constantly exposed to the elements. If dust and dirt are left to accumulate, the effectiveness of your solar panel system can become compromised. In short, surface debris means that solar cells are limited when it comes to the amount of solar energy they can absorb.
In some cases, surface grime can limit efficiency by as much as 5%. This might not seem like a lot, but if you're looking to tackle rising fuel costs, it can be a real issue. Or even if you regularly need to charge an electric vehicle at home, your solar panel technology needs to be as efficient and reliable as possible.
Self-Cleaning Solar Panels
Thankfully, most solar panels are installed in such a way that cleaning isn't a major concern. Ground and roof-mounted panels are almost always aligned at an angle. This prevents rainwater from pooling on the surface but also makes it easier for grime to be washed away.
However, this only goes so far in keeping your panels clean. Ultimately, you'll need to take a more proactive approach to maintenance.

Even if you understand how to clean solar panels, it may not always be practical to undertake the task yourself. If your panels are mounted on a roof in a hard-to-reach spot, you may need to call in professional help.
As such, it's advised to investigate professional cleaning ahead of time. This may seem like an unnecessary extra cost. However, you can mitigate the financial burden of solar panels by seeking a grant from the Solar Energy of Ireland (SEAI).
How to Clean Solar Panels: Cleaning Schedule
Knowing how to clean solar panels is all well and good, but you'll want to ensure you're cleaning them regularly enough to maintain efficiency. Manual inspection is the best way to determine whether your panels need cleaning. If your panels are installed on the ground, this is straightforward.
However, many homes and businesses have roof-mounted arrays. Although this technology is low-impact, it can make inspection and maintenance more of a challenge. Generally speaking, solar panels should be thoroughly cleaned at least once every six months. However, if you're using a PV system to power EV chargers or business-critical systems, it's a good idea to commit to a monthly cleaning schedule.
How Location Can Complicate Cleaning Frequency
Location can complicate matters when it comes to solar panel cleaning. If you live in an urban area, pollution may pose a challenge. Solar panels positioned near a busy road will be exposed to exhaust fumes and other pollutants.
If your business premises are based in an industrial area, you'll have to contend with even more pollutants. In either case, more frequent cleaning is advised.

It's not just human activity that poses a problem. Pollen can quickly accumulate on the surface of solar panels. Monitor the issue during tree pollen season, which usually lasts from March until May. As pollen particles are particularly small, cleaning under solar panels is important.
If you're situated in a rural environment, consider the impact of wildlife on your solar panels. PV systems installed near forested areas are likely to be exposed to bird droppings. This can create a stubborn layer of grime that rainwater runoff alone won't be able to remove.
Solar Panel Cleaning Advice
Now that we've talked about the importance of keeping our PV system clean, let's focus on how to clean solar panels. In most cases, solar panel maintenance is fairly straightforward. However, the task may be more challenging if you've invested in larger panels or a more expansive array. Before reaching for cleaning tools and supplies, take a step back to inspect the scope of the job.

Wondering what to use to clean solar panels? If there's only a light layer of grime and dust, a hose pipe is usually all that's needed. However, if your panels are mounted on a roof, make sure your hose is long enough to reach them.
Once you've sprayed the panels with clean water, they can be left to dry naturally. It's tempting to use pressure washers to tackle more stubborn debris. However, high-pressure sprays and solar panels aren't a good mix and you run the risk of causing irreparable damage.
Tackling Tougher Cleaning Jobs
If your panels haven't been cleaned in some time, a more aggressive approach to maintenance is required. Understanding how to clean solar panels covered in a more persistent mess is therefore crucial.

Ultimately, you want to avoid being too heavy-handed here. Applying too much elbow grease may damage your solar panels. Furthermore, you'll need cleaning supplies that won't scratch or scuff the surface of your PV system. Choose the softest brushes and scrubbers possible and avoid using harsh cleaning chemicals. In most cases, warm water infused with mild detergent is all that's needed.

To start, use a hose to give your panels a thorough rinse. Once you've done that, you can reach for your scrubbing brush or squeegee to target more persistent debris. When you've finally removed any build-up, you can reach for your hose pipe for a final rinse.

This level of cleaning may not be practical for some people. If your panels aren't accessible or you're suffering from mobility issues, it's best to invest in regular servicing. Just make sure you're using someone with sufficient experience who understands how to clean solar panels to avoid damaging them.
Thinking About Solar Panel Installation?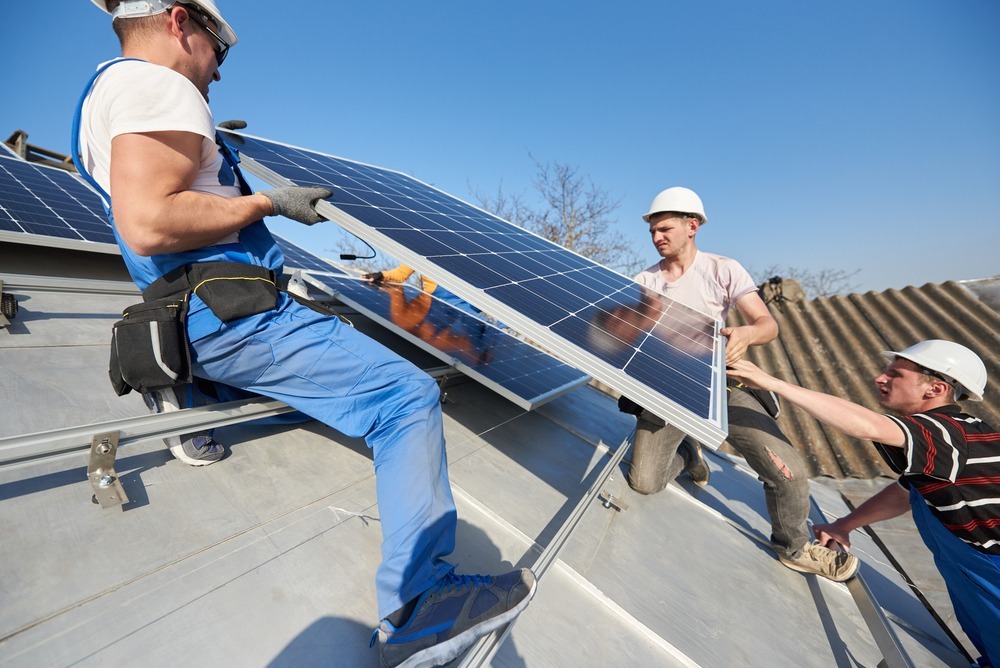 As the cost of living continues to throttle finances, there's never been a better time to invest in solar panel technology. For best results, never attempt to install solar panels yourself. It's not only dangerous, but if you want to achieve electricity bill savings of up to 50%, professional installation is the only way to go.

At Wizer Energy, we're experts in solar panels in Ireland solar panel installation. With more than six years of experience installing domestic and commercial PV systems and EV charging stations, you can always count on premium service when you choose us.
Solar Panel Cleaning: Key Takeaways
With more people turning to renewable energy to mitigate rising fuel costs, solar panels are becoming increasingly commonplace. However, PV systems need to be cleaned regularly to ensure they're working at an optimal level.
Although rainwater provides some degree of self-cleaning support, everyday pollutants like dust and pollen can inhibit efficiency by as much as 5%. This is a major concern for domestic and commercial electricity supplies alike.

Cleaning frequency is determined by a few factors. Location plays a key role, with both urban and rural environments posing unique challenges. Depending on your location, you may have to commit to a more rigorous and regular cleaning schedule.
Furthermore, cleaning solar panels isn't always straightforward. While ground-mounted systems are easy to inspect and clean, arrays installed on roofs are often inaccessible.
If you're undertaking cleaning yourself, remember to adopt a delicate touch. A careless and heavy-handed approach can damage your solar cells and severely impact efficiency.
Speak to the Team at Wizer Energy Today
Ready to slash your energy costs? A typical Irish household can save around €415 annually with solar panel installation. Furthermore, SEAI grants help make the initial outlay of solar panel or Zappi charger installations more manageable.

Are you looking to install solar panels in Cork or Limerick? Get in touch today to see how we can help you. We also work further afield and completed installation of solar panels in Dublin and Waterford? Call us directly on 087 7530066 and we can discuss solar panel or EV home charger options in detail.